College's Excellent Coaching Team
Dear Old Collegians,
The recurrence of Covid-19 has put paid to any rugby matches being played, so there is not much to report! From Hein's report that is published here, one can see that  it has been a case of trying to keep the boys focussed on skills development, and for the coaches to keep working on coaching development.
We are fortunate to have a very passionate and talented set of coaches on the staff at College, and unlike other schools, College has rightly (in our opinion) opted to only use staff members to coach our rugby teams. The MCOBA is trying to assist Hein and his team by providing whatever we can to assist in upskilling our coaches, as by doing so we can impart that knowledge onto a greater group of boys. The session with Brendan Venter will no doubt have been of great benefit to our coaching staff, and we commend Hein on this initiative.
Lets hope rugby can resume soon, so until then, keep well and safe.
Yours in rugby,
Peter Rodseth
From Hein Kriek, Director of Rugby
Dear Maritzburg College Old Boys,
Hope all is well in this what is called the 3rd wave of Covid-19 infections in South Africa. Not much has happened on the field of play as contact school sport is still on ice for the time being. Our teams put in a block of skill development for the last four weeks before now taking a break for the mid-year exams.
Within the limits, our High Performance squads will still be in training picking up again for a 2-week blast before the much needed school holidays.
With no rugby allowed, SARU and SASRA has made the announcement that the annual youth weeks (Craven and Grant Khomo weeks), have been postponed till October 2021.  This is dependent on permission from the DBE.  This does give some of our boys a light at the end of the tunnel, albeit a very dim one.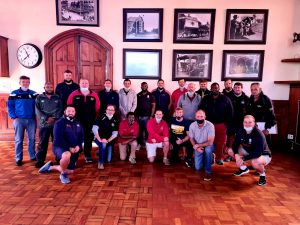 Our coaches have not been idle during these times and recently attended a development workshop with Dr. Brendan Venter and Bart Schoeman hosted in the Victoria Hall. The topics covered over the Friday and Saturday were more focused off the field than on the field of play:
Culture in the team environment
Modern trends in the game
What is High Performance in the school environment
The way we train
The impact of above on the school boy rugby
Coaches soaked up the information and lessons learned will be implemented.
We will continue to work hard in these challenging times. Thank you for your continued support.
Please stay safe.
Pro Aris et Focis
Hein Kriek, Director of Rugby
Maritzburg College