Meet Our OC Staff Members         
At the MCOBA, we are all about keeping Maritzburg College old boys connected to both the school and one another. However, some old collegians want to have an even stronger connection with the school, choosing to report to College each weekday morning as they did when they still adorned the mighty basher. These men are our old collegian staff members. Over the next few months, we will be getting to know these individuals. We will be finding out what they do for our school, catching up with what they have been up to since their school days, and asking a few fun questions. If you have any questions you would like to direct to any of our OC staff members, email the name of the staff member and your question to: oldboys@collegeoldboys.com and it may just be featured in their interview.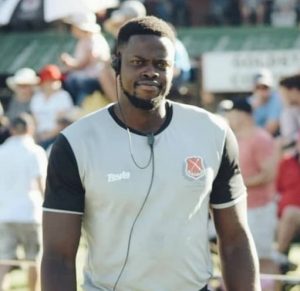 Meet Minenhle KG Shezi (OC 2011)
KG went straight from matriculating at College to obtaining his Sports Management and Development qualification from VC, right back to Maritzburg College. Not only was he taught by Mr Graham Bennetts at both College and VC but he also reported to him when he got his first job working in the College High Performance Centre. Between his time as a College student and College employee, however, KG hardly missed a beat; both coaching and refereeing basketball for the school since his 5th form year. When he started his journey towards a full time career at College, KG's main role was to open the gym for the boys at 5 in the morning and supervise their session. After a year of 4:30AM drives to work, Mr Marwick finally gave him a position in the Boarding Establishment as part of the new and long-awaited Shepstone House. He hasn't looked back since. "I really enjoy working at College, it barely matters what I'm doing. I understand the boys, I mean, I'm one of them, and this is our home."
KG became a full time staff member at College in 2016 as a sports officer working under Mr Graham Bennetts. Since then his job description has grown almost annually and he is now a Sports Officer and Facility Manager, overseeing the High Performance Centre. While his work in College's new-fangled HPC is clearly a huge part of KG's job, it's certainly not the only role he plays at College. KG is also a newly qualified teacher and now takes a Business Studies class, he still works as a boarder master at Shepstone House, does the game-day warm-ups for 1st team and u16 hockey, he's currently overseeing Covid-19 screening of the boys at 6:00 daily, he's the Master In Charge of Games Room, he writes the programs for boys and staff who are wanting to train recreationally as well as for the squash and tennis squads, and he acts as a liaison between our co-curricular department and the Department of Sports and Recreation.
When asked what he does when he's not working at College, this was KG's response. "What do you mean? During holidays? I dog-sit for staff on campus. There's often tournaments that I work and help out at. Sometimes I'll train some of the staff that live on campus. I generally just hang around in case anyone needs anything." After being pressed for an answer which didn't involve work, KG told us his favourite thing to do is hit the gym. He trains twice a day, six days out of the week and once on a Sunday. Once every two weeks he has a rest day which for him means putting the weights down and doing over an hour of cardio. "Working out is so important. It says so much about your discipline and consistency as a person. I don't feel good if I go a day without training. It's the only time I ever get to relax. That and grocery shopping. I'm happiest when I find a sale on peanut butter or chicken breasts!"
We asked KG a few fun questions:
We generally only ask three questions here but there's something we need to get cleared up for our readers first. Neither your name nor surname include the letters K or G. how did that come about?
Well if you know anyone from College you'll know we more often than not, shed our given names at some point during our College journey. It's actually crazy how there's guys I saw almost every day for 5 years but I could never tell you their legal names. College nicknames are so powerful. Somewhere out there, there's an 80 year old man whose grandkids call him "Slingshot" thanks to the red, black, and white! I was nicknamed after basketball player Kevin Garnett, as for the 'why' well… you just had to be there.
We've established that you do a lot for College, of all the roles that you play at the school, which is your favourite?
Easily my work at the HPC. The team Swart has put together down there is incredible and the boys are nothing short of inspirational. The tank of a College boy never runs empty. The atmosphere is electric in that gym, the determination, the grit. These kids have such busy lives, between doing their school work both at school and at home, going to sport practice, joining clubs and societies, maintaining a social life, likely doing chores at home, and trying to cope with adolescence, I can imagine that some days gym is the last thing they want to do. Despite all the things they have to juggle, however, the boys always show up and they come ready to give it no less than 100%. I think that's probably why I strive to do so much. How can I ask the boys to push through fatigue and fight through the slumps to get the best out of their workout if I'm not able to do the same?
I've also really been enjoying the screening. It's a pain to have to be up early and it's a very tedious task but it's been so fun getting to know more of the boys. Starting the day with a laugh is never a bad thing and if you know College boys, you know they're a laugh a minute!
Rumour has it you're a basketball superstar, what do you think College Basketball can do now to return to our position of best in South Africa?
You know what, sport is like a mirror image of life. What goes up, must come down, maybe it goes back up again. There are so many different factors which lead to a team having a great run or going into a slump. You know what doesn't fluctuate? What never changes? Hard work. Working hard is a major theme at Maritzburg College, it's why the u15E play just as hard as the u16A. And that's why, no matter how many slumps there are or how long they last, College will always claw its way back to the top. Working in the gym I have access to pretty much all the teams and work closely with the directors. I can safely say that one sport comes back, College will be a force to be reckoned with. Across all of our major sports, directors are working hard and more importantly working together to get the best out of College sport as a whole.
To answer your question, all College needs to do to get to or remain at the top of any sport, is be College. Keep working hard. Keep the focus. Keep showing up. Keep the brotherhood tight. The rest will sort itself out.
Your son will hopefully be joining College in the next 7 or so years. What is the best lesson you think you could teach him to prepare him for life at College?
I think the most important thing I could teach him is to add value. Whatever you do needs to make a positive contribution. You can carry just one tackle bag during games rom and that's one more tackle bag which doesn't get left out in the rain, one less tackle bag for someone else to carry. It doesn't really matter where your place is and what your role is, you just need to add as much value as possible.  That means to yourself too. Surrounding yourself with the right people is so important. The people you spend time with are a representation of you and you need to guard your reputation with your life. I would hope he'll know to be respectful and helpful an honest but more than anything I would want him to be able to walk away from the experience knowing he left something better than it was when he found it. That's value.