Meet an OC who has only just left College
The Maritzburg College Old Boys' Association is more than just a network, it's a close knit community; a brotherhood. We are dedicated to fostering and supporting strong ties and close friendships amongst Maritzburg College alumni. As one of the country's most active Old Boys' associations, we want to do more than maintain the relationships you built during your high school years, we want to foster new ones, introduce you to the guy who sat three rows behind you in English whose name you never quite got.
Enter, our new series titled "Meet a Fellow OC." As part of this series we are opening the floor you, our readers. We want to hear from any and every Old Boy. The aim of this new series is to give the entire OC community an opportunity to learn a little more about one another, share favourite memories and find out what aspects of other OCs' experiences you can identify with. If you either want to take the short questionnaire yourself or suggest someone for us to contact who you want to know a little more about, please email: oldboys@collegeoldboys.com
This week, we would like to introduce you to Wanda Njimi who matriculated just last year as part of College's now famous 100% pass rate year!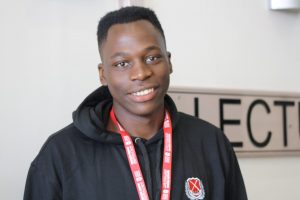 Wanda Njimi (2020)
What is one thing you think made your year stand out?
No prizes for guessing, but the biggest stand out for my year was the Covid-19 pandemic. It's something that had never been seen or experienced before. It really started affecting South Africa around the end of first term and after that, everything went south; well, almost. We spent a few months at home and that made it extremely difficult to cope with the stress of matric. Although, to the credit of my peers, I think we persevered reasonably well. When we finally came back there were so many changes to get used to. Social distancing was particularly tough. At College, we're all brothers and so not being able to give your mate a hearty handshake at the start of the day took some getting used to. Don't even get me started on the masks!
How did you end up at College?
It's actually an interesting story. I had initially only applied to two schools, I got rejection letters from both. I have always been a huge fan of Maritzburg College, I had heard a lot about it and was always drawn to the culture, the sport focus; it was a dream of mine to be a student there. I would read the Monday newspaper to see the College results from the previous weekend of rugby and of course I followed the rugby on TV. I tried my best to get into College, but the last day of my grade 7 year, I still didn't have a school. That was when I took it upon myself to physically visit College to tell them that I love the school and I want to be a part of the brotherhood. Mr Guise-Brown And Ms Biddy Parker agreed to see me and I'll never forget how that conversation went. Mr Guise-Brown asked me why I want to be a part of Maritzburg College. When I told him it had always been my dream, he responded by saying "Well, your dream has come true because we are accepting you into Maritzburg College." It's a decision I'll always be grateful he made because it made me who I am today.
What was your favourite subject/sport at school and do you intend to stay involved with it /them now that you're out of school?
My favourite subject was business studies and my favourite sport was rugby. I'm currently studying towards a B-Comm in management and marketing with the aim of working in the business world and making a name for myself in that industry. How much I enjoyed business studies contributed a lot towards that.
Who, amongst all the people you met at College had the biggest impact on you and why?
OC Sanele Ngema (2008) had a huge impact on my life. I was in his accounting class in grade 9, and back then I was a pretty boisterous student who was constantly being disciplined. One day, Mr Ngema sat me down and said "Listen, you have so much potential. I've seen you around people and how big your personality is. You can do great things and strive higher in life. If you ever need anything or just to talk, I'm always here." From that day, I changed my ways from being that naughty 3rd former who was cocky from finally getting out of grade 8 and started to become more goal oriented. It made a huge difference for me to have someone to talk to and seek advice from, whether it was personal, classroom or sport related. I always refer to him as my mentor and I will always be grateful for the support and direction he provided.
Please tell us a little about yourself. Your family, what you're doing your first year out of school, what career you're interested in, and any hobbies or interests you have.
I am my mom's only son. On my dad's side I have one older sister. I have a very supportive family who was behind me throughout my time at Maritzburg College. Whether I needed them financially or emotionally, they were always there, even on the side-lines of my rugby games, cheering me on. I'm very family oriented, I love spending time with and being surrounded by my family.
I'm hoping to be able to start a number of businesses in multiple industries. I love business but it's also important that I secure financial security for me and my family. I know it will take a lot of works and determination but lucky these are all values which are deeply instilled at Maritzburg College.
I also pride myself in health and fitness so I work-out quite a lot. I think being physical and active is the cornerstone to good overall health. It keeps my mind and emotions just as balanced as my body. I also love to read. Reading broadens your knowledge and knowledge is power.
Honestly I'm all about constant self-improvement. I want to constantly be getting better, doing better.
What role, if any, do you think College has played in making you who you are?
Getting the opportunity to attend College was the best thing that ever happened to me. I've grown so much and been afforded so many opportunities. I've tried to do Mr KGB justice and make the most of every chance I got to take advantage of all the chances there are as a College boy to learn new skills and experience things you otherwise would've only dreamed.
What was your funniest moment at College?
The best thing about being at College is spending most of your day surrounded by your brothers and so there were always laughs. We'd often share stories about how we got through 2nd form and that was always hilarious. It's really fun reliving those days now when we can laugh about them because we now realise that the first year at College does so much to teach us how to be good men and shape us into better versions of ourselves. Plus, the lessons we learn in that year about brotherhood and the unbreakable bond between friends who are getting through the daunting first year of College together are invaluable. At College, we learn right off the bat how to help others and the value of accepting help from those around you.
I remember second form camp; it was the first ever camp I'd ever been to. We went to Shongweni dam for an afternoon of canoeing. In the middle of the dam, our canoe tipped, and I hadn't learned how to swim yet. Of course, my brothers rallied around me and helped me back to shore. It was such a powerful moment but whenever we talk about this, we just burst out laughing about how I went into panic mode! Honestly, if I were to recount every funny moment I've had at College, I'd never stop talking.
Any other comments/additions?
I would say, to current College boys, work hard, stay focused but also live your life. And I don't mean do anything reckless but really enjoy what College life has to offer. Participate in as many things as possible, take advantage of all the opportunity College offers to help you reach your goals. Know what you want to achieve and then carve out a clear path to get there. Do you really want to play for the Springboks? Bafana Bafana? Do you really want to be a multimillionaire? If your answer is yes, then how do you get there? You can't be playing games, have fun but keep working hard., grinding. Hard work defeats everything. Stay focused, put your blinders on and tell yourself "I'm going to get there." Look at all the successful people who are doing what you want to be doing, what do they all have in common? They all worked hard.