Getting to know Andrew "Tubby" Clayton – Class of 1991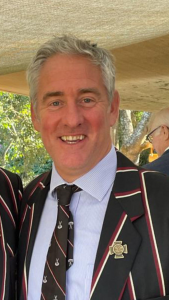 In 1986, at Merchiston, I secured the nickname Tubby. I was not the sleek athlete back then that I am now! After matriculating in 1991 I studied my undergraduate marketing degree in Durban to then do an about turn and study for another 4 years completing my Honours degree in Accountancy and qualifying as a Chartered Accountant through PricewaterhouseCoopers (previously Coopers & Lybrand – also known as "College & Lybrand) under the stewardship of Mr David Wimble in 1999. I then head off to London to start a career in Investment Banking only to return to South Africa and settle in the Western Cape in 2014 where I live now in Somerset West on a lovely golf estate, Erinvale, and I have two beautiful daughters, Chelsea (8) and Daniella (10). I am a Certified Financial Planner (CFP) and my firm, Advent Wealth, specialises in off shore investments and wealth management. In my spare time I love mountain biking having done 3 Cape Epics and a beast called Iron Bike in Italy and a full ironman in the UK. I started London's first stand alone, pay as you go, indoor cycling training studio and was the UK Ambassador for Cape Epic. I think I can safely say I am nuts about cycling. My girlfriend, Marilyn also has me running and not just after. I try to keep a healthy mix of family time, sport and work.
The Bond with College
In 2001, after flying back for my 10 year reunion, Mr Roy Curtis got me involved in the UK Old Boys Association. In 2003, at the request of the MCOBA HQ, Kevin Torlage (84) and I set up the MCOBA UK Branch which was a lot of fun as there were so many young OC's in London at the time. It still runs today having had a successful golf day recently. Arriving back in the Western Cape in 2014 I took over the Branch Chair from Mr Mike Raw. In 2017 I joined the College Foundation as a Director and in 2018 joined the MCOBA Exec to assist with Technology and Communication stepping into the Vice-President role in 2020. It seems my years at College and involvement in all things "Red, Black and White" are not about to stop.
I am passionate about getting our MCOBA Business network, College Connect, firing so that OC's young and old can benefit from it. It is a bugbear of mine that our friends at Balgowan Tech and Hilton have this perceived advantage of a "network" when in fact ours is bigger, far more successful and we just need to "wake the sleeping giant".
My passion for all things College is fuelled by all the doors opened for me by Old Collegians and particularly a Past President and now Honorary Life Member, Mr David Wimble who I can truly credit for believing in me and supporting me when others would not and giving a kick start to my career at "College" & Lybrand in 1995. I think many OC's could credit him for this.
How did you end up at College?
Being a "Merchy Mudrat' from Merchiston, it was a natural progression. I just followed all my mates, never knowing how life changing it would be and what a world class choice College was back in 1987!
What is your first significant memory of College?
Walking around the school in 1987 and just absorbing all the buildings, steeped in history and all the quirky nuances of College. Reading the "old walls" and absorbing all the names on honours boards and even those etched into the old red bricked walls. There was just so much legacy at College.
Were you a day scholar or a boarder? We've heard from some OC's that the relationship between boarders and day scholars is a complex one. Do you agree or do you think once you're an OC, any labels from school days fall away?
I was a Boarder at Hudson House. At school it is reasonably complex because if you want nice sandwiches for tea break, you have to have a good "day bug" mate. The Boarders and Day Boys certainly got on as one team, but Boarders were "worked" a little harder at College and so we had an air of "superiority" perhaps? After School it changes and the bond is strong and we are all one-year group. The real challenge is to get year groups to interact between year groups. I think we have a lot of work to do there as MCOBA exec to make that happen particularly between the older generation and youngsters.
What was your favourite thing about attending Maritzburg College?
What a difficult question to answer, I absolutely relished being at College and chose to be a Boarder. I was one of those rare breeds that loved school and I enjoyed interacting with the teachers and being in class, albeit my marks never reflected that. I loved having so many mates around (hence being a boarder) but my favourite part was playing rugby. Running onto Goldstones on a Saturday with your team to battle it out in the "red, black and white" to secure a win. It was such a highlight and something that could not be replicated out of school even though I joined College Rovers in 1992. The memories and stories made in rugby live on forever.
Which staff member at College had the biggest impact on you and how?
There are so many, in class it would be Murdo Miller, our 6th form class teacher and science master extraordinaire. His teaching ability and explosive experiments brought class alive and I enjoyed a lively "banter" with him. On the rugby pitch, unquestionably the legend Win Whitear. He taught us so much through sport, skills you could never learn anywhere else. He was such an inspirational coach and motivator. I was privileged to have had him as coach for 2 years.
With advancements in communication technology, staying in touch is easy now. What do you think drove old boys in the past, when keeping in touch was near impossible, to maintain their bond and uphold their brotherhood?
Most certainly that friendship and brotherhood brewed in their years at College and a sense of belonging and being a part of a "family" drove this need / desire to stay connected. I do think understanding wives that allowed their husbands to socialise at Goldstones or at MCOBA branch events was a massive contributor. Sport has always brought us back to College and the fierce rivalry forged on the sports fields when we played at College, continues for many years after we leave and so OC's meet to watch and support and continue this bater with friends and family and to have some fun.
Congratulations on your new role, what are you most excited about experiencing/working towards as president?
I am super excited to ensure our 125th celebration in 2022 is a massive success and an event all OC will talk about for many years to come.
What is the first significant change you'll make or project you'll take on?
Getting our digital platform and single database (School, MCOBA, Foundation, College Connect and other bodies) all working together. This has started but needs to execute and start making a difference.
Once your tenure is over, what legacy do you want to have left in the MCOBA?
I would like OC's to have had lots of fun events that they will relish and keep coming back for more. Not just our Annual Reunion weekend / week that is already such a success but many others. I will add one here that I have spoken to no one about (not even the MCOBA Exec), I would like to see an annual 2-day MCOBA Mountain Bike race kick off that it is a College Family weekend away with camping that everyone will love! I want to get our Business Network (College Connect) working and really making a difference for all OC's.