Tod and his brothers Paddy and George were raised on a farm in the Karkloof by their widowed mother. They attended the "original" Treverton prep school, headed and totally owned by Mr Peter Binns, grandson of Sir Henry Binns, 3rd Prime Minister of the Natal Colony. Interestingly, the Collins boys' great uncle Sir John Robinson was the first PM.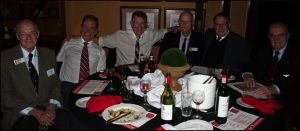 Caption: 50th reunion of the Class of '66.
L to R: Mr John Deane, Roland Suhr, Tod Collins, Kingsley Pooler, Mr Rob Moll, Mr Keith Olivier.
Tod and Kingsley "Matches" Pooler ('63 – '66) were only accepted at College in 3rd Form because their older – mutual – half-brother John Pooler ('54 – '59) and the headmaster Mr Ray "Bones" Fuller didn't get along too well. This "late start" at College left a mark on Tod for his 4 years there, never feeling a 100% member of his peer class, despite being one of the 7 school prefects in his matric year.
An English teacher of Tod's, Mr Howard Timm, was on record as saying that he was the finest English pupil he had ever taught, and was not surprised that later in life Collins wrote and published several books.
When asked for his most memorable incident during his College days, Tod usually refers to the night he and five of his 5th Form (at Nathans in those days) pals snuck out, leopard crawled down the drain to College Road and "went to town"! A Castle was drunk at the New Hotel Watson, then a few steaming hot loaves of white bread were bribed from the night watchman at Oxenham's Bakery. They ate them on the bank between Barnes and Pape's grounds and then the gang returned by the escape route ……
….only to find their beds stripped to expose the dummy bodies of blankets and rugby balls! Mr Fuller might have enjoyed administering the six lashes the next morning, especially to the boy whom he hadn't wanted in his school a few years earlier!
His second memorable incident was this:
Besides Bundy Shaw, Udo Koch, and Tod, another of those six escapees was Steve Stead, who, after being Commander of the SA submarine fleet, became Rear Admiral of the SA Navy . When, through politics, his upward path was at its zenith he left the defence force and joined the diplomatic service for some interesting "missions." His quick wit probably made him ideal for such nerve-wracking disciplines. This was epitomised when, in 6th Form, the Afrikaans master Mr Boshoff noticed the back-of-the-classroom Steve talking. It went like this:
B: Stead, stop talking!
S: I wasn't talking sir.
B: Stead, I saw your lips moving!
S: I was talking to myself sir.
B: What were you saying?
S: I don't know, sir. I wasn't listening.
>>>>>>>  PAUSE >>>>>>
B: Stead, I always thought you was mad, now I knew you were!
His other memorable moment was at the school assembly on the Monday after the athletics sports day. Tod and Dave Norton had both participated in every track event so when the Open Mile was about to start, they warned the hot favourite Robbie Markham of their plan. They sprinted the first lap at break-neck speed then veered off the track and enjoyed a coke. At the assembly the headmaster Mr Hector Commons reported that the school sports day had been a great success, except for the blatant attempt to "sabotage the open mile!"
Tod Collins did his 9 month military stint in 1967 as a gunner in Potch and Bethlehem alongside fellow College matrics Sam Nicholson, Andrew Comrie and Vaughan Norton. On an officers' course he became a close friend of Tony Trahar (a St Johns, Joburg product) who was later the CEO of Anglo-American. With 5 months to kill before the university year would begin, he caught the train to Bulawayo and hitch-hiked the length and breadth of Rhodesia. He hadn't decided on what line of work he would study for. Forestry, bee-keeping, Parks Board ranger?  In a "moment on the road to Damascus" flash, while helping a rancher to open the carcass of a dead cow, he realized where his future lay!
His sporting ambition during his first year at the PMB campus was to run the Comrades. The athletic club was a very happy one and to this day the runners keep in close touch. As Tod's final training outing before the event, his mother dropped him at the Royal Natal National Park. Using his army gear and boots and minimal rations he hiked southwards, keeping the escarpment to his left.  He dropped down to Giant's Castle camp where he phoned his mother to reassure her he was OK. The ranger gave him a pound of sugar and a packet of zoo biscuits; he went back up and continued the trip. After 8 days he reached Sehlabathebe, descended to Bushmansnek, and marched down the district road until a farmer gave him a lift to Underberg. Little did he know then that:
Underberg would later be his home for over 45 years, and
His hike would one day be referred to in hushed tones as "The Grand Challenge" done in large organised, guided groups.
Two years at Natal varsity in PMB were followed by four at Onderstepoort in a class of 45 students. He graduated as a veterinary surgeon in 1973. In his final year his peers sent him as the SA rep to the International Veterinary Students Association congress in Hanover, Germany.  There he spent all his time trying to explain to the Scandanavian delegates why the banning of SA students from the IVSA would in no way end apartheid.
He worked for six months in the Eastern Cape before heading overseas for three years "doing various things in various places." Some of these things were taking vet locum jobs in various parts of England, and working as a stockman in New Zealand. His book "Cullen" explains what occurred in between.
He returned to SA and settled in Underberg where older brother John was dairy farming. His senior partner for 28 years was Dr Peter Collier, with whom he had "a partnership made in heaven!" Both Aston (1976) and Myles(1979) Collier were College boys. The practice of Drs Collier & Collins was regularly chosen to test new products and treatment protocols. Tod was the inaugural chairman of the KZN RuralVet Practitioners' Group. He has done stints on various professional, charitable, school and civic bodies which, he says, are the expected thing after being grounded in the College ethos and being part of a close-knit vet and rural community.. The practice grew to three partners.
His "seasons in the sun" have included canoeing (ONLY in the pure waters of the Mzimkulu!), marathon running (11 Comrades including his first as an 18 year old at Natal U and the other 10 in the red, white and black of Collegians Harriers), and mountaineering. Besides climbing extensively in his back yard of the Drakensberg, Tod has climbed in the New Zealand Southern Alps, the Andes, French Alps, Himalaya, and Peak Lenin in Kyrgyzstan. On Lenin he found himself stranded in a blizzard at around 6800 metres, trapped in his tent for 3 days and 4 nights, expecting that to be his end.
During those desperate freezing, waterless and foodless days and nights on Peak Lenin he listed in his notebook (hoping it would one day be found) the ten people who had most impacted on his life. Fortunately he was able later to visit those of the ten who were still living, and personally thank them. One was the late Mr John "Yuri" Sellers, a master at College, who wore a different tie to school every day of the year. On visits to PMB Tod and Mr Sellers would have French rarebit lunches at the Lakeside Café overlooking the PMB bird sanctuary.
His mission to track down and thank the 10 inspirational people, he claims, gave rise to one of his very few pieces of original wisdom: "An undeserved compliment given is a tragedy; but a deserved compliment NOT given is a sin."
Tod initiated the Southern Drakensberg chapter of the search and rescue section of the Mountain Club of SA. His "moment of glory", he smiles, was when he trudged through deep snow up the Sani Pass to assess the situation where tourists were stranded in the Sani Top chalet. Wood, coal, gas and diesel had run out, the water pipes had frozen, so he contacted the MCSA and requested helicopter evacuation. To mark out a landing pad for the Oryx he chose a flat site where the folk stamped the snow flat. Then he diluted some tomato sauce and marked the landing zone with the customary "H". A newspaper reporter spoke to him that evening. Headlines in newspapers around the world the next day trumpeted, "Vet and ketchup save families from certain death!"
Another season in the sun has been his author years. He has written and self-published 6 books, with a 7th about to be released. Predominantly they are collections of short stories in the James Herriot mould. However, that genre being overdone these days, Tod writes on many other topics. With the traditional short story writer's trade-mark, all have a twist in the tail. His books and stories have done well in competitions in SA and in the UK. In 2005 his story "The Festive Season in a Part of Africa" won the BBC Commonwealth competition. It was recorded and broadcast on radio stations across the world.  He has a thrilling novel – based on some cold facts – gradually taking shape in his mind.
In 1979 Tod married Trish, a sister of College old boy Peter Phipson (1974). Tragically  Peter died during his army spell in Angola after his horse stood on a land mine.  Tod and Trish have three daughters, Carolyn, Leigh and Rebecca, all of whom were educated at Underberg Primary and Howick High Schools.
Tod is a public speaker. Topics he offers are:
There's much more to mountaineering than mere mountains.
Two Great Mysteries: Everest 1924 and the North Pole 1887, and their parallels.
Depression and Suicide: why the veterinary profession is at the top of the list.
The Ups, Downs and Head-over-heels of a vet's life.
The Andrée Expedition.
My connection with the early Antarctic Expeditions, with little-known facts.
So you want to write a book, do you?
My Journey with Panic, Burnout, Depression and Bipolar Disorder. (He is on a panel of 8 vets on the vet association's Helpline for these afflictions.)
The last-named subject is one that Tod enjoys discussing openly, for, he says, the once stigmatised conditions are now well understood and nothing really to be ashamed of. At social gatherings the subject might rise, so his standard reply is, "Some people wear specs for short sight, some take daily jabs for diabetes, some have in-growing toenails, some are prematurely bald, some have perpetual halitosis and some have fat bums. I have bipolar disorder …. Now please pass the salt." This affliction was possibly initiated by the Himalayan accident in 1975, described in "Cullen".
At the end of 2018, after 45 years of mixed animal vet practice Tod took retirement. However, various factors have forced him to return to his occupation as an independent veterinary livestock consultant, and farm-minder.  His current situation, he believes, knows, is firmly in the hands of our Father God.
Tod's available books are:
Tod Collins: The Collected Short Stories (R220)
The Black Sheep (R140)
Cullen (R100)
The Art of Being . . . an Awful Angler (R180)
(Soon to be released in 2021: The Scapegoat.)
Bookstores in Cascades, PMB, Howick, and Underberg sell them. They are also available on Amazon and Takealot. Otherwise order direct from Tod at tcollins@isat.co.za