Old Boys' Events Highlights
Dear Old Collegians
I thought I would be writing about the cracking start we have had to our winter sports that had started to unfold, but very sadly this has come to a grinding halt. The impacts this is having on our scholars is likely to be more profound than we will ever realise. The disappointment, not to be able to spectate as a parent or supporter, pales in comparison to what our scholars are feeling and this manifests in their behaviour and mood which we can only empathize with and offer our support.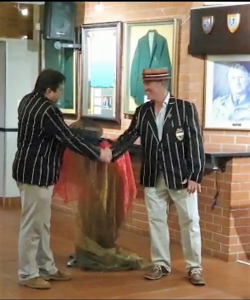 Old Boys has hosted 3 wonderful functions through May: one being the Bronze Basher Ceremony where Grant Little (Class of 1985), our immediate past President, passed the "reins" over to me after doing such a fantastic job of steering our MCOBA over the past three years, for which we are all so grateful for. Everyone was just so appreciative to be on Goldstones and enjoying a social event with a beer or two. A wonderful lunch was hosted in Howick, and we enjoyed the company of our Old Boys community that we are so eager to increase events for. Finally, an awesome evening was hosted by our Durban Branch Chairman, Mr Wayne Huinink (Class of 1988), at which our guest speaker was OC, Mr Grant Blakeway (Class of 1980) who spoke of his 3000 miles / 56-days rowing challenge across the Atlantic. A truly phenomenal achievement! As always, Old Boys across the globe continue to shine!
I really hope that you support events happening in your area and if you have any ideas, please do share them with Sue at the Old Boys office oldboys@collegeoldboys.com.
Warmest greeting to you all,
Tubby